Our organic produce
just as nature intended
Seasonal, fresh, delicious
At Huckleberry, we're committed to offering a wide range of seasonal and certified organic produce. We source our fruit and vegetables locally and take pride in knowing where our food comes from. Organic produce is grown in good clean soil, without the use of synthetic fertilisers, antibiotics and pesticides, and organic agriculture is a farming methodology where the quality of the land, and long-term health of the environment are prioritized over short-term gain. Because organic farmers grow in good quality soil, the food that they harvest is nutrient rich and bursting with natural flavour. We foster long standing relationships with growers and are committed to supporting organic farming communities throughout New Zealand so that you can fill your fridge and feed your families with the same top-quality produce that we feed ours.

A 'certified organic' product means that it has been checked, audited and certified by a trusted certification agency. Most of the produce we source is certified organic, however, where this is just not possible due to availability and transitioning farms, we work with trusted growers to bring you the best possible alternative. You'll find certification charts in each of our stores that outline our offering clearly:

What do we mean by 'certified organic'?
Certified Organic
External verifiers have audited the grower to ensure organic standards are met.

Non - Certified Organic
Grown organically but not certified by organic verifiers. In this instance we receive signed affidavits from our suppliers and maintain close working relationships

Non - Organic
When organic isn't available, we work with trusted suppliers to source spray free or conventional produce that's naturally produced as possible.

For us, choosing organic produce isn't just about choosing to eat better quality food. We think it's a bit bigger than that.

Why we choose organic
Making better choices
Choosing organic is about making positive, healthful and sustainable lifestyle choices that are better for ourselves, our communities and the planet.
Supporting communities
It's about supporting local growers and organic farming communities throughout New Zealand and the world.
Fair treatment for all
It's about thinking and acting to ensure the welfare of animals and the fair treatment of people in our rural and farming communities.
Considering the long-term
And it's about considering the long-term health of the land, soil, environment and surrounding flora and fauna.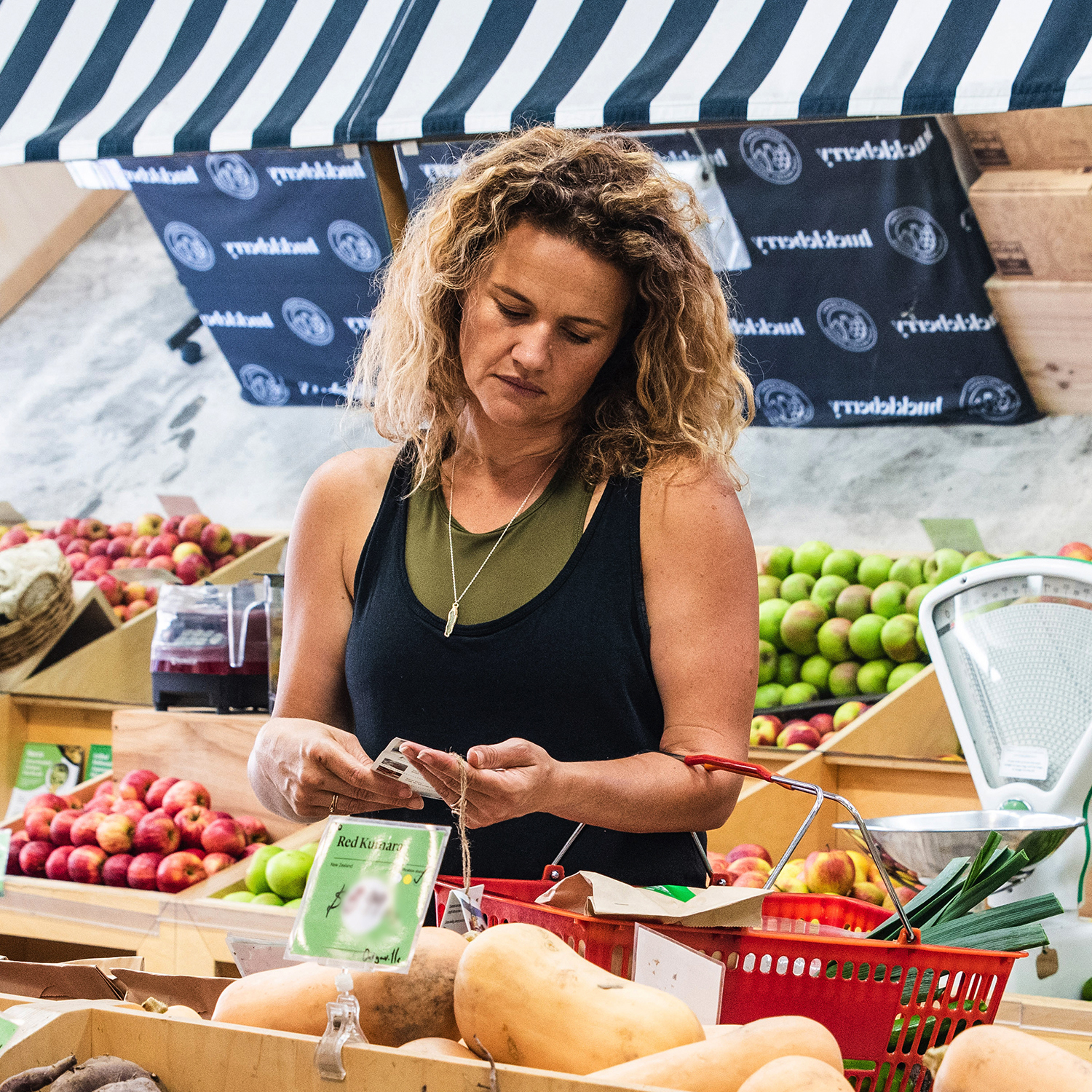 There is a common misconception that all organic produce is expensive, which isn't the case at Huckleberry. We work hard to offer sharp specials that are often times competitive with conventional produce so that everyone can have the option to choose organic fruit and vegetables.

Organics for everyone
So where's the best place to start when choosing organic produce? It makes sense to start by swapping out some of the produce that's likely to have the highest levels of pesticides, as well as some of the fruit and vegetables you enjoying eating the the most.
A bit of organic sense helps here, which just means thinking about how we eat certain foods. For example, when it comes to melons, we remove the skin before consuming, which generally means there's a smaller chance of being exposed to potentially harmful pesticides. When you eat strawberries on the other hand you're more likely to eat the whole fruit, so prioritizing these products first when choosing certified organic is a probably a good idea.
Unfortunately it doesn't end with strawberries. The following list summarises some of the fruits and vegetables, which according the New Zealand Safe Food Campaign have the highest pesticide residues. If you're thinking about switching to organic it makes sense to put these items on your organic shopping list first.

Where to start?
The dirty dozen
Produce in New Zealand more likely to contain pesticide residues ranked according to number of pesticides detected in total samples and percentage with pesticides.

| | | | |
| --- | --- | --- | --- |
| Food | % With residues | No. Of pesticides | Sample size |
| 1. Grapes | 98.2 | 35 | 56 |
| 2. Celery | 100 | 19 | 51 |
| 3. Bok/Pak Choy | 95.7 | 21 | 47 |
| 4. Nectarines | 100 | 15 | 36 |
| 5. Oranges | 98.2 | 16 | 56 |
| 6. Strawberries | 100 | 14 | 8 |
| 7. Spring Onion | 97.9 | 15 | 48 |
| 8. Lemons | 92 | 20 | 50 |
| 9. Wheat: Bread/All Products | 87.3 | 23 | 150 |
| 10. Cucumber | 82.1 | 27 | 56 |
| 11. Pears | 100 | 9 | 8 |
| 12. Broccoli | 92.9 | 10 | 57 |
At Huckleberry stores you'll find a crew of passionate team members who are always happy to help. Doing our part in helping you and your community to enjoy our locally sourced, seasonal, and certified organic produce is what we love to do, it's what we're here for.